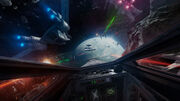 "Are you picking anything up, Loo Two?"
— Red Four
The X-Wing VR Mission is a downloadable VR mission created by Criterion Studios for DICE's Star Wars Battlefront. It was released on December 2016 and is exclusive to the Playstation VR.
This mission follows a Rebel Alliance X-Wing squadron known as "Red Flight" and their mission to extract Bravo One, a U-Wing, from the planet Wobani.
Players have the option to choose a male or female X-Wing pilot, although they play just as the same.
Turbolasers offline
Every day

All of Red Flight survives
500 credit reward

No deaths

Complete the mission without dying
1500 credit reward

Protector

Bravo One survives with more than 50% shields
2000 credit reward

Clear skies
Ad blocker interference detected!
Wikia is a free-to-use site that makes money from advertising. We have a modified experience for viewers using ad blockers

Wikia is not accessible if you've made further modifications. Remove the custom ad blocker rule(s) and the page will load as expected.