Earlier today at Gamescom 2015, EA showed fans a new video revealing the latest addition to the new Battlefront game coming out later this year. The gameplay reveals a 20 player aerial dogfight mode that EA is calling Fighter Squadron. This new mode will allow players to place themselves in the cockpit of the franchise's best known fighter vehicles ever seen in the Star Wars Galaxy. Battlefront Senior Producer Sigurlina Ingvarsdottir states "We want to give fans the thrill of living out their Star Wars battle fantasies in a game that is authentice, visually stunning and fun."
Check out the new gameplay video below, and for more Gamescom 2015 news and trailers, head over to Wikia Live .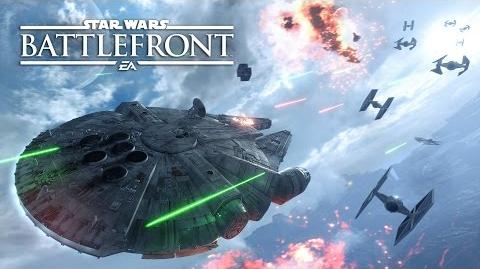 ---
---
Ad blocker interference detected!
Wikia is a free-to-use site that makes money from advertising. We have a modified experience for viewers using ad blockers

Wikia is not accessible if you've made further modifications. Remove the custom ad blocker rule(s) and the page will load as expected.