The following article/section is about content that is not yet released. As a result, the content of this article is subject to change.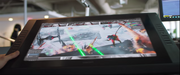 A video game which is the seventh entry in the
Star Wars: Battlefront series
and
sequel
to 2015's
Star Wars Battlefront
is currently in development by EA DICE and Motive Studios.
The sequel was announced during an earnings call by EA's CFO, Blake Jorgensen, in May 2016. The game is said to feature "bigger and better worlds" and content from "the new movies", though he did not specifically name any at the time. Therefore, it is currently unclear as to which eras this game will cover, or if the current will return. However, concept art of the game seen in an EA Star Wars featurette suggests it will feature content from the Sequel Trilogy. 
Jorgensen also stated that the sequel would be released "next year", but since the game was not listed on EA's announced titles for its 2017 fiscal year which ends in March 2017, this means that the sequel will be launched any time from April 2017 onward.
In January 2017, the EAStarWars twitter page revealed that the next Battlefront is having more locations, heroes, eras, and an all-new singleplayer campaign, meaning more than double the content from the original game. It is unknown how the campaign will be handled. 
The game will be shown at Star Wars Celebration, and at E3 2017 
Battlefront Series

Main Series
Star Wars: Battlefront (2004) • Star Wars: Battlefront II • Star Wars Battlefront (2015) (Expansion Packs include: Outer Rim, Bespin, Death Star, Rogue One: Scarif*) • 2017 sequel
Spin-Offs
Renegade Squadron • Elite Squadron • Mobile Squadrons
Other
Star Wars: Battlefront III • Battlefront: Twilight Company • Star Wars Battlefront Companion


* = Upcoming content.
Ad blocker interference detected!
Wikia is a free-to-use site that makes money from advertising. We have a modified experience for viewers using ad blockers

Wikia is not accessible if you've made further modifications. Remove the custom ad blocker rule(s) and the page will load as expected.