Theta-class shuttle (Theta-Class T-2c Shuttle)
Basic Info
Type:

Shuttle

Affiliation:
Ship Details
Crew:

6 1 Pilot, 2 Gunners, and 3 Passengers

The Theta-class shuttle is a shuttle used by the Galactic Empire. It has many different slots; pilot, 2 gunners, 3 passengers. This means that the ship will reheal very quickly if it is full of pilot class units. It has a lot of health in the first place, making it a force to be reckoned with. Three units have a devastating weapon, making this ship very deadly to its foes. The best feature of this ship, however, is the fact that it acts as a spawn point if landed in the enemy hangar. This is very nice, but you will need a lot of pilots to heal the ship with their fusion cutters while it is in the enemy hangar. (Equivalent- Republic Assault Gunship, Droid Gunship, Alliance Assault Craft)
The Theta-class T-2c shuttle is the Empire's space transport shuttle, which is odd considering that the Theta-class is a clone wars era shuttle and is seen at the end of Revenge of the Sith. The Lambda-class shuttle, from The Return of the Jedi would be more apt.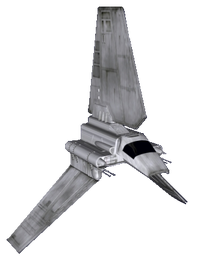 This would be better for The Empire.
Ad blocker interference detected!
Wikia is a free-to-use site that makes money from advertising. We have a modified experience for viewers using ad blockers

Wikia is not accessible if you've made further modifications. Remove the custom ad blocker rule(s) and the page will load as expected.