The following article/section is currently under construction. Content is subject to change.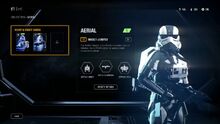 Beggar's Canyon is a Missions map featured in Star Wars Battlefront set on the desert planet of Tatooine. It first appeared in Star Wars Episode IV: A New Hope. The mission teaches players on how to control a starfighter as the Rebels.
Like the other tutorial missions, and all of the single player missions, this one has stars that can be unlocked.
Job Done: Complete the mission
6 Min: Complete within 6 minutes
No Proton: Complete within 6 minutes without using proton torpedoes
Achievements
Edit
There are two achievements that can be unlocked from the mission.
Best star-pilot in the galaxy: Destroy 10 TIE fighters within 2 minutes on the Beggar's Canyon mission
New Recruit: Complete any mission
Ad blocker interference detected!
Wikia is a free-to-use site that makes money from advertising. We have a modified experience for viewers using ad blockers

Wikia is not accessible if you've made further modifications. Remove the custom ad blocker rule(s) and the page will load as expected.