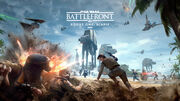 Star Wars Battlefront: Rogue One: Scarif 
is the fourth and final expansion pack for 
Star Wars Battlefront
. It was released on December 6, 2016 for those that have the
season pass
, 10 days before the release of the spinoff film 
Rogue One: A Star Wars Story
, on which the expansion is based. It features new maps, heroes, vehicles, a new mode and weapons from the film. It is included in the season pass, and players with it received the pack two weeks early. It is the only expansion pack that isn't set during the original trilogy; just as the film it is based off, the DLC takes place immediately prior to the events of
Star Wars Episode IV: A New Hope
.
Star Card
Edit
Battlefront Series

Main Series
Star Wars: Battlefront (2004) • Star Wars: Battlefront II • Star Wars Battlefront (2015) (Expansion Packs include: Outer Rim, Bespin, Death Star, Rogue One: Scarif) • Star Wars Battlefront II (2017)
Spin-Offs
Renegade Squadron • Elite Squadron • Mobile Squadrons
Other
Star Wars: Battlefront III • Battlefront: Twilight Company • Star Wars Battlefront Companion


* = Upcoming content.
Ad blocker interference detected!
Wikia is a free-to-use site that makes money from advertising. We have a modified experience for viewers using ad blockers

Wikia is not accessible if you've made further modifications. Remove the custom ad blocker rule(s) and the page will load as expected.