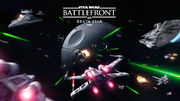 Star Wars Battlefront: Death Star 
is the third expansion pack for 
Star Wars Battlefront
. It released on September 20, 2016 for
Season Pass
holders and October 4, 2016 for everyone to purchase separately. As its name suggests, the expansion feature maps set on or near the Death Star, as well as new weapons, vehicles and heroes and a new mode. This is the first expansion pack to feature space battles, and the first to give new Hero vehicles.
Blasters
Edit
Star Cards
Edit
AI-controlled
Edit
The TL-50 Heavy Repeater, K-16 Bryar Pistol, and Laser Trip Mine were originated from the Jedi Knight series.
This expansion pack marks the first time an astromech droid is playable in the Battlefront franchise, and is the only time an astromech is playable in the game.
This is the first expansion pack to only have 3 game modes at beginning, which the DLC was criticised for at launch.
This expansion is the first (and last) time the locations are set outside of a planet or moon, and instead set on a station.
This expansion is the first of the two to have 3 separate phases, the other being Rogue One: Scarif.
Battlefront Series

Main Series
Star Wars: Battlefront (2004) • Star Wars: Battlefront II • Star Wars Battlefront (2015) (Expansion Packs include: Outer Rim, Bespin, Death Star, Rogue One: Scarif) • Star Wars Battlefront II (2017)
Spin-Offs
Renegade Squadron • Elite Squadron • Mobile Squadrons
Other
Star Wars: Battlefront III • Battlefront: Twilight Company • Star Wars Battlefront Companion


* = Upcoming content.
Ad blocker interference detected!
Wikia is a free-to-use site that makes money from advertising. We have a modified experience for viewers using ad blockers

Wikia is not accessible if you've made further modifications. Remove the custom ad blocker rule(s) and the page will load as expected.