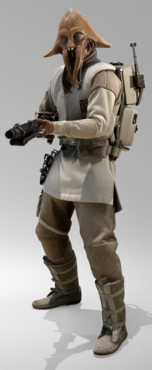 Rebel Heavy Gunners
(
Quarren Heavy Gunners
in Missions) are the Rebel Alliance equivalent to the Empire's 
Shock Troopers
in the Missions and Skirmish modes of
Star Wars Battlefront
. They are one of the most dangerous enemies present in the singleplayer missions, having more health than regular NPC soldiers and a more powerful weapon. They will appear once the player has achieved 26 points and will continue to spawn from there on. They will also spawn on the player's side if friendly AI is enabled after the enemy side gains 26 points. In Skirmish, as with all Rebel units, they have a number of randomly selected appearances, however in Missions they only appear as Quarrens.
NPC Attacks
Edit
The Rebel Alliance and New Republic
Classes
Hero bodyguards
Heroes
Vehicles
NPC Classes
Ad blocker interference detected!
Wikia is a free-to-use site that makes money from advertising. We have a modified experience for viewers using ad blockers

Wikia is not accessible if you've made further modifications. Remove the custom ad blocker rule(s) and the page will load as expected.