Playstation Portable
or
PSP
is a handheld console made by Sony. Films, games, music, photos and the internet are all accessible on the PSP. The PSP uses a memory stick to store info and UMDs (Universal Media Discs) for big files that take up alot of space. A UMD acts like a CD-Rom.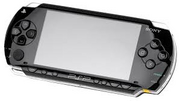 The Star Wars Edition Vanilla White PSP is the Star Wars Battlefront version of the PSP.
Ad blocker interference detected!
Wikia is a free-to-use site that makes money from advertising. We have a modified experience for viewers using ad blockers

Wikia is not accessible if you've made further modifications. Remove the custom ad blocker rule(s) and the page will load as expected.