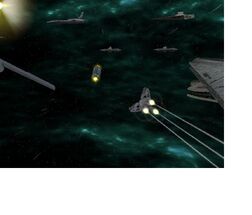 Open space maps are generally larger in scale than orbit-based maps. Each side has one Capital Ship and two Frigates, and if the Frigates are destroyed a third will enter the combat area. Open space maps may also have meteor clouds.
there are 4 versions of open space.
It is impossible to access open space maps in Instant Action. The only trigger for the event is in Galactic Conquest.
Ad blocker interference detected!
Wikia is a free-to-use site that makes money from advertising. We have a modified experience for viewers using ad blockers

Wikia is not accessible if you've made further modifications. Remove the custom ad blocker rule(s) and the page will load as expected.