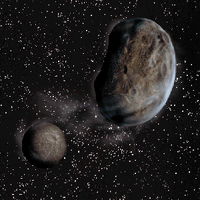 Kessel is a misshapen, asteroid-shaped planet had a barren, rocky landscape. The atmosphere was very thin, with most of the air being provided by factories on the surface. Ancient tombs and ruins, possibly of Sith origin, dotted the landscape, haunted by skeletal avians. The prison had been established in these inhospitable settings. There was a single large settlement on the planet, Kessendra. Kessel is in Star Wars: Battlefront Renegade Squadron
Ad blocker interference detected!
Wikia is a free-to-use site that makes money from advertising. We have a modified experience for viewers using ad blockers

Wikia is not accessible if you've made further modifications. Remove the custom ad blocker rule(s) and the page will load as expected.