Star Wars Battlefront II Overview
Star Wars Battlefront II expands upon the hectic multiplayer battles of the previous game by including new game modes, along with maps and characters that span the prequel trilogy and The Force Awakens. EA also added a single-player campaign, a major fan-requested feature with the previous game. The story centers on Iden Versio, leader of an elite Imperial team known as Inferno Squad. Her adventures bridge the gap between Return of the Jedi and The Force Awakens.
Key Features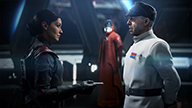 Star Wars Battlefront II's campaign mode is canon and helps fill in the gap between Return of the Jedi and The Force Awakens. Iden Versio leads an elite unit of Imperials who will cross paths with major Star Wars characters.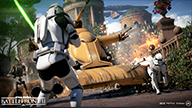 Whereas the previous Star Wars Battlefront only included maps from the original trilogy and Rogue One, Battlefront II expands into every era, from the prequels all the way to The Last Jedi.
The new Starfighter Assault game mode takes Star Wars Battlefront II into space for massive dogfights that include ships from every era.
Explore More
Meet Iden Versio
Edit
Iden Versio
is the leader of
Inferno Squad
and the main protagonist of
Star Wars Battlefront II
. With an ISB admiral for a father and a propagandist for a mother, Iden's been immersed in Imperial life since birth. But what she witnesses in
Star Wars Battlefront II
will shake her convictions to the core.
Featured Video
Edit
Ad blocker interference detected!
Wikia is a free-to-use site that makes money from advertising. We have a modified experience for viewers using ad blockers

Wikia is not accessible if you've made further modifications. Remove the custom ad blocker rule(s) and the page will load as expected.