Hoth: Rebel Base is a map present in the DICE remake. This map is used only for a Training Mission and for Survival. The map is very similar to one that is used for small game modes used on the planet Hoth.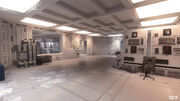 Training Mission
Edit
In the mission, 1 or 2 players take control of Darth Vader and his master Emperor Palpatine. The goal is to wipe out all Rebel forces present within the base as they change tactics after a squad of them die.
There are 3 stars that the player can unlock through this mission.
Job Done: Complete the mission, regardless of the difficulty.
3 Min: Complete the mission within 3 minutes or less.
Efficient: Complete with 75% health or more.
Survival
Edit
Ad blocker interference detected!
Wikia is a free-to-use site that makes money from advertising. We have a modified experience for viewers using ad blockers

Wikia is not accessible if you've made further modifications. Remove the custom ad blocker rule(s) and the page will load as expected.