The Enforcer class is a Reinforcement class in DICE's Star Wars Battlefront II. This class can only be played by earning a certain amount of Battle Points, the amount depending on the game mode.
Each faction has its own Enforcer class. This means that the weapons and abilities of Enforcer units vary from faction to faction. To learn more about a particular Enforcer unit, including its unique weapons and abilities, find the unit in the Factions section.
Like all units, the Enforcer's class level is determined by the amount (and level) of Star Cards that have been unlocked for that class. Players can craft Star Cards using Crafting Parts or unlock them randomly via Loot Crates to increase the Enforcer's class level.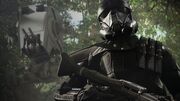 Star Cards
Edit
Boost Cards
Edit