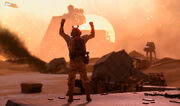 An emote is a feature in DICE's Star Wars Battlefront and Star Wars Battlefront II that allows players to express themselves with their player model. It usually consists of some sort of movement indicating an emotion, such as laughing or screaming, or a line from a Star Wars movie.
In Battlefront, emotes are purchased with Credits. In Battlefront II, emotes can be purchased with Credits or Crystals.
Emotes in Star Wars BattlefrontEdit
Victory
Shoot first (Season Pass only)
Salute
Ion shock (Deluxe Edition only)
Fist bump
Bad feeling
Come on
Smell
Droid
Denied
Blame
No faith
Thumbs up
Shrug
No try
Boom
No way
Too easy
Cuffs
Scream
Clap
Nooo
Saberfight
Say what
Oh yeah
Tusken
No good
Flex
Laugh
Boxer
Nothing here
Emotes in Star Wars Battlefront IIEdit
Not the Droids!
He doesn't like you
Facepalm
Chocker
Chocked
Injured
Roger Roger
The Droids
Kaboom
Tusken Raider
Win
It's a trap
Crying
Denied
Flirty
I give up
I'm sorry
Lightsaber Fight
Losing
May the Force be with you
Meditate
For the money
Peekaboo
Rock, Paper, Scissors
Chosen One
Rancor
Pew Pew
Wasn't me
Winner
Tired
Uh Oh
Unreleased
Edit
Band 1
Band 2
Band 3
Dance 1
Dance 2
Dance 3
Dance 4
No No No
Laughing
Powerful
Droid
Close
Finally
Gonk
Rude
Take That
That's How
Bodyguards in Battlefront, such as Imperial Royal Guards, do not have emotes.
In both games, when emoting with an alien head option, such as a Weequay, the player model will say the emote in that alien's language.
In Battlefront II, the emotes from a hero take longer to activate than a regular soldier.
Star Wars Battlefront IIEdit
Made emotes purchasable through Credits and Crystals.