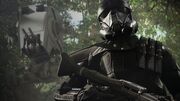 Death Troopers are special units for the Galactic Empire in DICE's Star Wars Battlefront and Star Wars Battlefront II, appearing as bodyguards for Director Krennic in Battlefront and as Reinforcement units in Battlefront II.
Star Wars BattlefrontEdit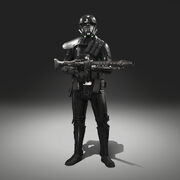 In Star Wars Battlefront, Death Troopers are the bodyguards of Director Krennic. Their abilities differ from the other types of bodyguards in the game, which both have a Homing Shot and Smart Rocket ability. Death Troopers, in contrast, have three abilities: Thermal Imploder, Cooling Cell, and Smart Rocket.
DLT-19: Death Troopers wield a more powerful version of the DLT-19 Heavy Blaster as their primary weapon, allowing them to quickly dispatch enemies from close- to medium-range.
Thermal Imploder: Death Troopers can throw a Thermal Imploder with their left ability.
Cooling Cell: Death Troopers can stop their upgraded DLT-19 Heavy Blasters from overheating for a short period by activating their center ability, a Cooling Cell.
Smart Rocket: The Death Trooper's third and final ability, and the only ability that it shares with the other bodyguards. Can be reused at vehicles and large groups of enemies.
While the Death Trooper will naturally want to stay close to Orson Krennic in order to receive the armor boost, they are generally more powerful in close quarters. This is because this is where enemies pack up together, and the Thermal Imploder and Smart Rocket will kill more people per shot. For open areas, avoid using the thermal imploder, because it takes too long to detonate, giving the enemy time to escape. If both the imploder and rocket are on cool down, use the cooling cell when facing large groups of enemies, as this will give you significantly more shots before you will have to cool your weapon. Don't leave Krennic while facing enemies, as you have very little health and can die incredibly fast.
Star Wars Battlefront IIEdit
Death Troopers are Reinforcement units for the Galactic Empire in DICE's Star Wars Battlefront II.
Sonic Imploder: Dennis Brännvall, Associate Design Director of Battlefront II, has confirmed that Death Troopers will be equipped with Sonic Imploders, rather than the Thermal Imploders they had in Star Wars Battlefront.
Ad blocker interference detected!
Wikia is a free-to-use site that makes money from advertising. We have a modified experience for viewers using ad blockers

Wikia is not accessible if you've made further modifications. Remove the custom ad blocker rule(s) and the page will load as expected.