The following article/section contains information about mods or modded content, and is not considered to be canon.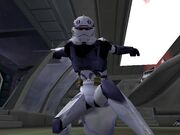 Description
Edit
This elite Clone Trooper can be found in the Battlefront Extreme 2.2 Mod. His armour is very similar to that of Commander Neyo. This unit can be unlocked by gaining experience points and it is very deadly on the battlefield. He can become invisible and sprint like a Jedi, quickly sneaking up on droids that have wandered too far from the battlefield. The Clone Assassin's primary weapons are his wrist blades that inflict heavy damage upon enemy troops. These primary weapons coupled with the ability to go invisible rival even the abilities of the elite trained Magnaguards.
MOD Factions and Units

MOD Factions
Old Republic · Sith Empire · Kota's Militia · Mandalorians · Zann Consortium
MOD Units

Republic: Clone Commando · Clone Commander Cody · Clone Shadow Trooper · Clone Assassin
CIS: Command Battle Droid
Empire: Storm Shadow Trooper · Storm Commando · Stormtrooper Commander · Imperial Navy Commando · Imperial Moff

MOD Heroes
Qui-Gon Jinn · Cin Drallig · Starkiller · Plo Koon · Revan · Darth Malak · Jolee Bindo · Darth Traya · Mellichae
Ad blocker interference detected!
Wikia is a free-to-use site that makes money from advertising. We have a modified experience for viewers using ad blockers

Wikia is not accessible if you've made further modifications. Remove the custom ad blocker rule(s) and the page will load as expected.