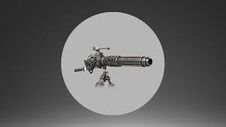 The Blaster Cannon is a Power Up featured in Star Wars Battlefront (2015).
Description
Edit
Any player can use the Blaster Cannon once it's placed. It only rotates 45 degrees to either side of it, making its range limited. It is extremely powerful to make up for this disadvantage. To protect the user, the front of the cannon is protected by an energy shield when used.
This Power Up can destroy heroes if they are in the way.
Ad blocker interference detected!
Wikia is a free-to-use site that makes money from advertising. We have a modified experience for viewers using ad blockers

Wikia is not accessible if you've made further modifications. Remove the custom ad blocker rule(s) and the page will load as expected.