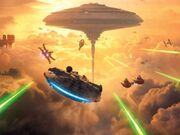 Bespin Airspace is a multiplayer map in Star Wars Battlefront that was introduced in Star Wars Battlefront Bespin. It is playable in Fighter Squadron.
This map takes place around Cloud City in the Life Zone of Bespin. It is the first Fighter Squadron map to have objects in the area of play that players can fly in and around. This mechanic can greatly change some of the ways that Fighter Squadron plays.
Most if not all of the pick ups in Bespin Airspace are hidden in and around the tibanna gas mining platforms and air balloons.
This map takes place during daytime. Cloud City can be seen in the distance, and there are traces of fires and smoke above indicating that a recent battle had occurred.
Bespin Airspace serves as the aerial combat map of the Bespin expansion.
Ad blocker interference detected!
Wikia is a free-to-use site that makes money from advertising. We have a modified experience for viewers using ad blockers

Wikia is not accessible if you've made further modifications. Remove the custom ad blocker rule(s) and the page will load as expected.