Video Squad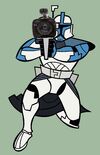 Hello, this is the Video Squad, the group within the Battlefront Wiki where we take videos of battlefront gameplay and put them on this wiki to make this wiki more interactive. Members of this squadron are dedicated to film the battles of the galaxy.
 Notes to Staffs 
Hello, staffs, to begin our YouTube campaign, we need to first start with advertisements to this wiki. But we will talk about that later...Now we have to talk about how should our strategies start off screen should look like, first, you must take videos of you (logged off so they can't see your profile name in the corner) typing in the search bar "Strategies" as the "Camera" zoom to search bar. Then the background of the wiki fade away, leaving the word Strategies on the black background. Then our "Star Wars Battlefront Wiki" wordmark fade into above the word. At the same time, the Imperial March theme fade in at the same rate. Then the screen fade out along with the music, your screen shall begin during the team selection. Then let your strategies flow! When you are done (Only on long strategies) you will say "May the Force be with you...Always" NOTE: Captions recomended.
---
If you have any questions, you can ask me. Good luck, and may the Force be with you!
Roles:
Head Video Commander:
Video Reporter(s):
Nominations:
The election will be held in Saturday of October 8, 2011, GMT (European time)
Those who lost is still in the project, but just not in the strategies champaign.
Accept
Mand'alor Skyobiliviator The Devastator You are the only one, after all...
Oppose
Questions
Ad blocker interference detected!
Wikia is a free-to-use site that makes money from advertising. We have a modified experience for viewers using ad blockers

Wikia is not accessible if you've made further modifications. Remove the custom ad blocker rule(s) and the page will load as expected.